BattlePack Heat-Saver Rings
BattlePacks are now available with these simple, yet extremely effective heat-saver rings. These small, lightweight rings will be installed two per cell, and help heat dissipation across the cell's surface, and can help avoid the meltdown situations that can arise in extreme conditions, saving your BattlePack from disaster.
The addition of these rings increases the length of a 20-cell (24V) BattlePack by 5/8" and the width by 1/2". (1/8" per cell). Height is not affected.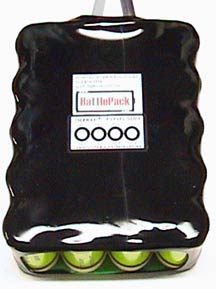 A BattlePack with rings installed