---
1/30/00
Wow, it looks like the Pay-Per-View got a LOT of attention! From the look of the posts on the BattleBots Forum and my own full mailbox, a lot of you are interested in getting involved. Well, a good start is to READ everything you can on the subject. Don't just ask "How can I build a BattleBot", or "Where do I start?". Instead, start your own research, there is TONS of information available online. Start by going through my Links page, and check out other robots that are out there. Many of them offer fantastic Tips and go into detail on how their robot was built. Read my own Tips page too. If you really want to get started quickly, Andrew Lindsey (another fellow Robot Builder from Team Spike), is offering robot 'Starter Kits' for sale:
Radio transmitter and reciever (FM, 4-channel)
Radio battery charger
Two RCE220 motor controller boards
Two gearmotors with attached wheels
Main gell-cell battery wired with connectors
Main battery charger
Basic frame to attach everything to
Instructions on how to assemble everything and on where to go to make it a competition-ready robot.

The frame and motors would be sized for the 25 or 55 pound Bot Bash or the 58 lb Battlebots class. Armor and weapons are not included, that'll be up to you. With shipping it looks like it'll be about $400-500 for everything. I'll happily put these together if there's enough people interested. Contact Andrew Lindsey for more info.
Jerome Miles, another robot builder, is also selling a starter 50lb'er Robot Kit, you can get more info here.
---
1/29/00
Today is the Pay-Per-View Premiere of BattleBots: BotBowl 1. If you miss it, it will be re-run on January 30 & 31, and then even into February. Check your local listings and cable provider for air times and ordering information.
Check back here later today, when I will post the BotBowl 1 battle results on the Event Results page!
Follow-Up: Now that the Pay Per View has been shown in many areas of the country, I have uploaded the event results here on the archive pages. If you have not seen the PPV show yet, you might want to look at these afterwards to avoid spoiling any surprises!
---
1/28/00
The 1999 BotBash Video is now available! You can get your very own copy for only $15. This 25 minute production, filmed at last year's BotBash, features a ton of great footage, including:
1) The Pits - with interviews from the builders
2) Autonmous - watch the smart robots make it on their own
3) Sumo - My robot can push yours!
4) Battle - You've seen it on TV, now have your own video!
Don't forget, the next BotBash 2000 is May 6-7 in Mesa, AZ!
Tomorrow, Saturday Jan 29, is the BattleBots Pay-Per-View event! If you haven't ordered it yet, do it NOW! Call your local cable company. You can check listings at TVGuide.com.
---
1/27/00
I've added a few things to the autolinks page- the "Most Recently Updated" section now has icons corresponding to which country the robot is in, this should help make your navigation a bit easier. (Thanks to several readers who have suggested this in the last couple months, overwhelming response finally pushed me over the edge to get it done)
I also changed the Key icons to make the page look less cluttered. I hope this is OK with everyone who frequents that page. (which, according to my site stats, is almost all of you! -Thanks!) Let me know if you have other changes or suggestions.
---
1/26/00
Thanks to tips from readers, I have discovered that BattleBots isn't the only robot show on TV lately! Robot Wars U.K. is airing around the country! You can check out the Series 2 (last year's event series of one of the top running U.K. TV shows) on the following PBS stations around the U.S.:
KAET Tempe AZ
KCTS Seattle WA
KCET Los Angeles CA
KERA Dallas TX
Kentucky Network
KLRU Austin TX
KRMA Denver CO
KTCA St. Paul MN
KTEH San Jose CA
KTWU Topeka KS
KUED Salt Lake City UT
KUHT Houston TX
Louisiana Network
N. Carolina Network
South Dakota Network
WCET Cincinnati OH

WCNY Syracuse NY
WCVE Richmond VA
WDCN Nashville TN
WDCQ University Center MI
WGBY Springfield MA
WHYY Philadelphia PA
WILL Urbana IL
WKAR East Lansing MI
WNED Buffalo NY
WNEO Kent OH
WPBT Miami FL
WPTD Dayton OH
WSBE Providence RI
WTBU Indianapolis IN
WTTW Chicago IL
WTVI Charlotte NC
WUFT Gainesville FL
WUSF Tampa FL
Check your local PBS listings for showtimes. The U.K. robots definitely put on a good show, check out how the guys on the other side of the pond do Robot Combat!
Only 3 Days Left til BattleBots is on Pay-Per-View!
---
1/25/00
I've been doing some cleaning up around the site lately. I've fixed up the publicity, history and Nightmare pages, and added some more links to the autolinks page.
---
1/23/00 (part 2)
I've added a new video to the video section, this was Nightmare's first weapon test in August '99.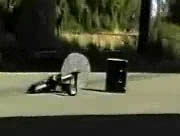 Less Than a week to go til the BattleBots Pay-Per-Veiw show! Tell everyone you know to tune in!!!
---
1/23/00
This website now has a new home! RobotCombat.com now is on a dedicated host server- you can get straight here with http://robotcombat.com, the old earthlink server account will be phased out shortly. You should never need to update your links or bookmarks again. I was having some major problems with traffic overloads on the old server, so I had to move to an unlimited traffic server. I hope this doesn't cause any inconvenience for you. As they say, "please excuse our dust" as I clean up all the broken and old links, images, and such for the new server. If you see something here broken, I'd love it if you could point it out to me.
---
1/22/00
I am in the process of actually getting this site hosted on a dedicated server, and in the meantime, connections may be unreliable. Right now, the RobotCombat.com domain is not working, as it is being transferred. It should start up again on the dedicated servers within 24 hours. When that happens, I will begin to gradually shut down the earthlink pages you see now. To help make sure you change your bookmarks to robotcombat.com by that time, I will change every page on this site to a reminder of the move. Thanks for your patience, this should be the last time I need to move servers.
---
1/17/00
Hey! I know its a bit late in reporting, but I just noticed it myself... Nightmare won a special recognition award for 'Most Powerful Weapon' from the Mondo-Tronics Robot Store website from the August 1999 event! Three other robots won special recognition awards too. Check it out!
---
1/15/00
The Village Voice just published an article about BattleBots! Check it out!
---
1/10/00
The new BotBash rules and dates have been announced! BotBash 2000 will be May 6 & 7 at the Confederate Air Force Arizona Wing Hangar in Mesa, Arizona. Not sure if I'll be able to make it to this one, but I'm going to try!
---
1/9/00
I've scanned and OCR'ed the article that recently appeared in Unlimited Magazine about the August BattleBots event! Definitely worth checking out!
---
1/6/00
Pay Per View has put up their advertisement for the January 29 BattleBots show!
---
1/3/00
Wow, here we are at the year 2000! Happy New Year! I sure am glad that is over with, especially all they hype and speculation.
I have archived the December updates below in the archive with the rest.
I am pleased to say that my (previously Y2K untested) script for the AutoLinks page worked fine for the rollover into 2000. However, I can't say the same for some of the site servers it visited over the weekend. There were a several bad connections to servers out there. I'm sure those will be fixed in time.
I want to thank all you readers for making RobotCombat.com one of the most visited Robot Combat related websites on the internet! We had about 75,000 hits in 1999! Thank you all for your continued support and input to this site! Keep the info coming, if you see robot related media attention or announcements that I haven't caught yet, please let me know!