Battle Number 5 - Heavyweight Melee Finals!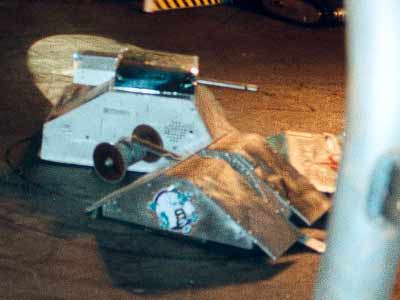 Hercules, Biohazard and LaMachine do a battle spin.

The Final Heavyweight Melee drew 8 Heavyweights into the arena, and Hercules looked very outmatched in there, let me tell ya! As things were almost ready to get underway, it was discovered that two of the other robots (Do-All and Vlad the Impaler) were on the same radio frequency, so they made a last minute change to do two 4-way rounds for the finals, so four of them left. My fears were realized as Hercules was left in the arena with the biggest competition there- La Machine, Biohazard and Do-All. (All three of the top and most popular heavyweights!) Well, I didn't know what to think, so I just went for it.
First to hit me was Do-All, who pushed me into one of the flipper-traps on the side wall, which held me there for a while before I was able to get away, and I started trying to cut into one of the other robots with my metal-cutting saw blades. I stayed out there for a while, afflicting the occasionnal cut or gash into someone, and Do-All was the first one out. I'm not exactly sure what happened to him, but he just stopped moving.
LaMachine and Biohazard were pretty intent on each other, and I kept on both of them, trying to get a couple cuts in here and there and getting between their blood bath. A minute later, Biohazard got a good flip on LaMachine, and overturned him completely. That left just Hercules and Biohazard!
I didn't have much I could do against Biohazard, because he was just too low to the ground for me to scoop underneath, so I mostly just got pushed around, and then he flipped me completely over in one of the corners. The crowd cheered, and everyone assumed it was over, but Hercules' flipper arm is dual purpose, so in a few seonds, I was able to flip back over and get back into the battle. The crowd went crazy!
Biohazard tried again, flipping Hercules over on the other side of the arena, but once again, I was able to flip back onto my wheels! The cheers from the crowd told me they loved it!
Biohazard (probably pretty annoyed at this point) turned around once more and got Hercules on the other side of the arena, and then flipped me into a precarious position near the wall, and it was over. For a second, I thought I could get out, but I was in such a position that I just couldn't quite reach the wall with the flipper arm. I lost the melee, but man, it looked great. This last event made the whole thing worthwhile, seeing my first time entry go head to head with the big boys made me realize that I COULD do this!