Battle Number 1 - Getting Blended by Blendo!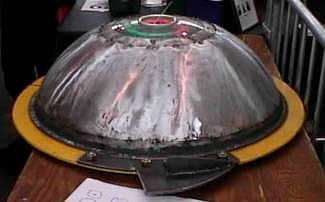 The enemy - Blendo!

Well, this was the worst part of the whole event for 'ol Hercules. The day before, I must have jinxed myself, because after checking out the competitors, I told my crew that I would be OK against just about any of them, except for "Blendo"- the meanest robot there, built by Jamie Hyneman of M5 Industries. Well, guess who they picked to battle Hercules in his very first fight? That's right. The same robot that was disqualified two years prior for being too 'dangerous', the same robot that spins at 70mph with a steel flywheel and ominous blades, yes, they picked me to fight Blendo.
After the shock set in, we franticly tried to make some last minute modifications to Hercules to prepare him for Blendo. I knew the cutting blades would do no good against him, so I added on my hammer attachment that I was going to use to try to slow him down. I rolled Hercules into the arena with a heavy heart, thinking that I may need to find a wheelbarrow to pick up the pieces afterwards.

The whole thing lasted about 30 seconds. Blendo sat across the arena, spinning at what seemed like a million miles an hour, and I decided that my strategy of hitting him with the hammer just wasn't going to work. The only way to get him would be to take one hit from him, wait for him to slow down and try to flip him over. So, I went in for my first hit.
The first impact sent one of my 2 pound stainless steel armor plates flying into the arena plexiglass wall, and left a 4 inch gash and a dent from the other side. Had the wall been lower or less durable, someone surely would have been decapitated. Unfortunately, the impact did not slow Blendo down much, so I had to get hit again.
I moved in and the second hit caught me on the right side corner, and picked up my 169 pound robot and threw him into the arena wall. The impact warped the side of the case and pinched the motor wires on one side, which in turn shorted out my Vantec speed control. That was all she wrote, Hercules was dead. I had no control or movement. I rolled him away afterwards thinking that perhaps this whole thing was a bad idea....That was pretty much it for Saturday.
To get Hercules back into the battles, I needed to get another speed controller, and with the weekend and location (not to mention the $500+ price tag), I had no idea what I was going to do.
Later that day, Blendo destroyed yet another robot (Punjar), which only was able to land one hit that completely destroyed Punjar, and he never made it back. After beating up Hercules and Punjar, Blendo was asked to leave the competition with a special achievement award, due to safety concerns with the audience.